Ethically sourced sheepskins for kundalini yoga, relaxation, & sacred spaces. Infused with prayers, love, & commitment to your growth on your spiritual path.
---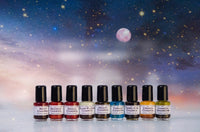 GuruDev Yogic Remedy Oils
Heal yourself with GuruDev Yogic Remedy Oils. Our remedies are designed to bring specific energy patterns to the situation any person needs help with.  Choose from 27 oils. These transformational oils shift energy subtly, yet fast. 
These oils were formulated and created by Master GuruDev Singh. He combined ancient traditions from the Mayan, Toltec, and Curandero traditions of Mexico with Kundalini Yoga SatNam Rasayan Reiki Healing.  GuruDev was an Internationally renoun preeminent Healer and Master Teacher of Sat Nam Rasayan and Kundalini Yoga worldwide.  
These oils are an amazing gift to yourself or others with lasting benefits and a direct link to GuruDev Singh's Healing light and subtle body.
Shop Now
Natural Organic Undyed
One of a kind organic sheepskins with unique markings and sweet vibrations. Create a calm loving environment with these free form and earthy colored tones. They have variety in their wool style and fluff making them super textural. They look great together in multiples.
SHOP NOW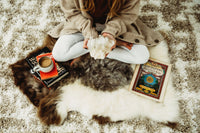 We Practice on Sheepskins
Sheepskins present a unique experience for practicing kundalini yoga and meditation on. They provide comfort, healing and grounding.  They insulate the spine and electromagnetic field. They give you a place of integrity to meditate on wherever you put them down. They allow you to connect to your meditative mind with greater ease. They provide deep relaxation to your being. 
Yogis have practiced on skins for thousands of years as documented and recommended in many historical spiritual texts.  We practice on sheepskins as recommended by many ancient yogic texts.  
Our sheepskins are ethically & ecologically sourced and hand selected by us - with decades of experience. Our sheepskins have international certification for their care in lifecycle and in processing.  
Our sheepskins come infused with the healing energy as we pray for your deep experience of healing and transformation on your spiritual path and in daily life use.
We pray for the souls of the sheep whose sheepskins we are using in gratitude and that their souls and lineage be liberated.
All our sheepskins are byproducts of the meat and wool industry from New Zealand. Recycling and preserving the integrity of the earth and natural wool and lanolin oils of the sheepskin is top priority in tanning. We source the most green environmentally friendly methods possible and are eco-certified.
Testimonials
Sat nam! Thank you so much for the gorgeous sheepskin. It is truly inspirational and energetically healing. I can't wait to use it in tomorrow's meditation. Again thank you for your kindness and ease to purchase from. 



Jesslyn Shani
SatNam!
I love my grey short wool sheepskin!  Received today...excellent service, many thanks.  Thank you for helping me with creating this cozy little reading nook to escape to!  I love these sheepskins, they are truly magical - a real treasure. 
So happy we met.  Talk soon and thank you for your support and love.  🙏❤️  

Paper Jules, Artist - Painter and Photography, Newport, RI
Sheepskin Mama sheepskins are luxurious and beautiful! I have them all over my SkinCare studio, home, car and my dogs use them too! I love the lush quality and colors, and they fulfill my indulgence to be surrounded in beautiful style. I use them to help me sleep. I recommend this product for those looking for the highest quality in sheepskins and heartfelt customer service. 

MaryDee Housley, SkinPerks Studio, Providence, RI
I have several of Sheepskin Mama's sheepskins and I couldn't be happier with the quality and depth of color the rugs have. I use them for yoga, meditation, Reiki, reading books and my children even love snuggling up on them in their room to play with! I use different colors to help accentuate different elements I need to incorporate in my life. I highly recommend using the sheepskins as part of your yogic practice and in every day life. Sheepskin Mama's rugs are sustainable, beautiful and carry such a wonderful energy that I can't imagine buying one anywhere else. 

Katie Kendall, Reiki Master Teacher, Kundalini Yogi, Momma to Two beautiful toddler boys
Sat nam all you beloved yogis! For so many years now I have bought and thoroughly enjoyed my sacred sheepskins from Sheepskin Mama.  They research and make available to us the best sheepskins in the world.  Their sensitive, creative and caring nature welcomes you to their great line of beautiful products. Love to you all. 

Dharma Kaur Khalsa, Ashram Secretary and Gurdwara Sevadar, Millis, MA
Arjan is an inspiration to all who meet her. Besides her creative and lighthearted spirit, she is courageous and is pure joy and love. She has been so generous and kind to me over these years and has become a beautiful light and friend in my life. Her sheepskins are one of a kind as she nurtures them and ignites them with so much healing and love energy. Her jewelry holds the highest vibrations. Such beautiful and unique pieces and they are filled with TLC. If you have yet to purchase from the Sheepskin Mama shop or experience their sheepskins (do sit on them as they choose you!) then, don't miss out any longer! Highly recommend all of their products and you may just get a hug or seeds of her boundless wisdom when seeing Arjan too. 

Daneille Federico, The Modern Spiritualist, North Reading, Mass.